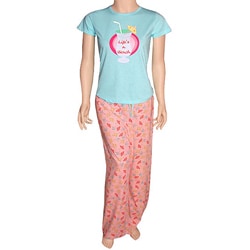 These are obviously right up my alley. Any drink that includes a 70's style cocktail umbrella is the drink for me, so clearly these pajamas are tailor made for me as well.

Set of t-shirt and drawstring pants are made of 100% cotton, so comfort is a given. While these might be more of a summer pajama, I like to keep a pair of like these around when I'm starting to get tired of the cold and am wishing for a few boat drinks. Throw a cardigan on over the shirt, and you'll be good.

Sizes S through XL are available, and the price is certainly right.

$19.99 at Overstock.com.