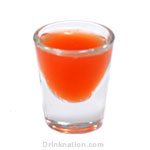 This is the last of my Halloween offerings, and I figured I'd finish it of with a shot. Always a good way to get the party started!

Spellbound

* 1 part Hpnotiq
* 1 part Liqueur, melon
* 1 part Vodka
* 2 parts Orange Juice
* 1 part Grenadine

Shake ingredients in a cocktail shaker with ice. Strain into shot glasses
.
.